Still learning lessons from USMC bootcamp many years later!
Sunday, January 30, 2005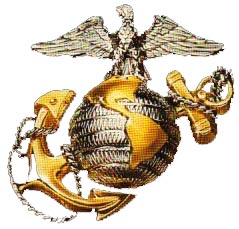 +JMJPT+
"Pain is weakness leaving the body"

(sign at USMC bootcamp)
I watched a show on Marine Corps bootcamp by the Discovery Channel and I saw a sign that made me think about my own little sufferings today. It reminded me of my own experiances in USMC bootcamp years ago and my experiance with pain today and how God can use the pain and sufferings we have to transform us into saints; just as the D.I.'s used pain to train us recuits to become Marines. Just as the recruit has to pass through the crucible so we could be called Marines on graduation day; so we too, as Christians, have to pass through our own crucibles so that we may rejoice in our "graduation day" from this earth into heaven as His saints. So, for me, I must endure hardships and pains and offer them all to Christ so that I may be transformed just as I had to endure pain and hardship so that I could be transformed from a civilain into a Marine. I became a Marine in 1986 after going through the crucible of bootcamp and someday I pray I will become God's saint by enduring all these pains and trials for Him. Pain and suffering alone is meaningless but when it is united in prayer with Christ we become anew, we are transformed. Just as I tried while in bootcamp to keep my eyes fixed on the reward of recieving the Eagle, Globe and Anchor- I must keep my eyes fixed upon Him and remember the goal that is set- to become His saint in heaven!
Below are a couple passages from St. Paul's letters that may be helpful. Stay strong and endure because our graduation day will make up for all the trials and sufferings now.
Please say a special prayer for all Marines spread out throughout the world (active/ reservists/ retired and veterans). Pray especially for those in harm's way while they guard our freedoms. May God richly bless them all and their families and keep them all safe and lead them all to Him!
Semper Fi!
Omnia Pro Jesu Per Mariam!!!
Ed

+++++
1 Corinthians
Chapter 9: 23-27 (NAB)
"All this I do for the sake of the gospel, so that I too may have a share in it. Do you not know that the runners in the stadium all run in the race, but only one wins the prize? Run so as to win. Every athlete exercises discipline in every way. They do it to win a perishable crown, but we an imperishable one. Thus I do not run aimlessly; I do not fight as if I were shadowboxing. No, I drive my body and train it, for fear that, after having preached to others, I myself should be disqualified."
++++
Hebrews
Chapter 12: 1-17 (NAB)
"Therefore, since we are surrounded by so great a cloud of witnesses, let us rid ourselves of every burden and sin that clings to us 2 and persevere in running the race that lies before us while keeping our eyes fixed on Jesus, the leader and perfecter of faith. For the sake of the joy that lay before him he endured the cross, despising its shame, and has taken his seat at the right of the throne of God. Consider how he endured such opposition from sinners, in order that you may not grow weary and lose heart. In your struggle against sin you have not yet resisted to the point of shedding blood. You have also forgotten the exhortation addressed to you as sons: "My son, do not disdain the discipline of the Lord or lose heart when reproved by him; for whom the Lord loves, he disciplines; he scourges every son he acknowledges." Endure your trials as "discipline"; God treats you as sons. For what "son" is there whom his father does not discipline? If you are without discipline, in which all have shared, you are not sons but bastards. Besides this, we have had our earthly fathers to discipline us, and we respected them. Should we not (then) submit all the more to the Father of spirits and live? They disciplined us for a short time as seemed right to them, but he does so for our benefit, in order that we may share his holiness. At the time, all discipline seems a cause not for joy but for pain, yet later it brings the peaceful fruit of righteousness to those who are trained by it. So strengthen your drooping hands and your weak knees. Make straight paths for your feet, that what is lame may not be dislocated but healed. Strive for peace with everyone, and for that holiness without which no one will see the Lord. See to it that no one be deprived of the grace of God, that no bitter root spring up and cause trouble, through which many may become defiled, that no one be an immoral or profane person like Esau, who sold his birthright for a single meal. For you know that later, when he wanted to inherit his father's blessing, he was rejected because he found no opportunity to change his mind, even though he sought the blessing with tears."

|
1/30/2005 03:29:00 PM ::


::
0 Comments:
Ed Working
::
permalink