Thunderstorms and Musings in the North Star State.
Monday, September 12, 2005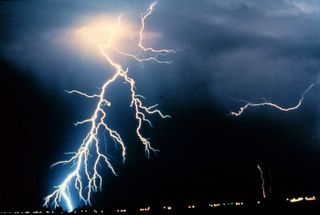 (
NOAA File Image- Source
)


"Praise the LORD, who is so good; God's love endures forever; Praise the God of gods; God's love endures forever; Praise the Lord of lords; God's love endures forever; Who alone has done great wonders, God's love endures forever; Who skillfully made the heavens, God's love endures forever; Who spread the earth upon the waters, God's love endures forever; Who made the great lights, God's love endures forever; The sun to rule the day, God's love endures forever. The moon and stars to rule the night, God's love endures forever!"

Pslam 136: 1-9


+JMJPT+
Another big thunderstorm is rolling through the Cities tonight. The thunder and lighting is beautiful and awe inspiring. Seems as though
the televison station here
has issued another warning so I better get off the computer so I don't have trouble later with it. I am actually surprised that the internet is still up and going and that there are no power or phone issues since last time (a few weeks ago) that we had a large storm I went without phone and internet for two days till they got it going again. I think this is quite a bit more tame than that storm though.
Dei Gratia!!
Hopefully it will stop before I start off on my walk to Mass in the morning. Need to invest in an umbrella me thinkest.

:-)
Tomorrow is another day of dealing with the post car crash stuff and I would really like to get it all done so I can pick up the rental car and go to work.
I ran across a couple prayers which I thought I would pass on while I can. The first one actually comes from an old
Divine Office
which I have. I only have one volume of it and wish I could find the rest of the set. I could more than likely not afford it if I did find it though. Will have to check the used/ rare book stores and see if they have it sometime. I really enjoy the additional reflections and prayers in it.
The other prayer I have seen before and really like. I did find a link for it and other prayers which are posted at the source info link.
Please do a favor for me and say a
prayer
that I get this car stuff all handled fast and for a couple special intentions which I place before
the Throne of Grace and Mercy
. I am also especially praying that some definite resources and opportunities open up for classes this winter/ spring at a place that will help me to really grow towards Christ and
His Bride
. I know I must leave all that up to
Divine Providence
just like I always ask you to do with your own things. Alas, if we place all of our
trust in God
and
His Mercy
He will never fail. I know that too well.
Omnia Pro Iesu Per Mariam!!
Ed
"Dominus, qui eripuit me de ore leonis, et de manu bestiae liberavit me,
Ispe me eripiet de manibus inimicorum meorum. Misit Deus misericoridiam suam et
veritatem suam: animam meam eripuit de medio catulorum leonum."
"The Lord, who snatched me from the lion's mouth and freed me from the grasp of the
beast, He it is who will rescue me from the hands of my enemies. God sent His Mercy and His Truth: my soul He has rescued from the lion's whelps."
pg. 1571 of the Divine Office circ. 1960 Matins, Lesson ii
.
Eternal Father, we humbly offer Thee our poor presence, and that of the whole of humanity, from the beginning to the end of the world at all the Masses that ever have or ever will be prayed. We offer Thee all the pains, sufferings, prayers, sacrifices, joys, and relaxations of our lives, in union with those of our Lord Jesus here on earth. May the Most Precious Blood of Christ, all His Blood, Wounds, and Agony save us, through the Sorrowful and Immaculate Heart of Mary. Amen. +
(
Source
)
|
9/12/2005 10:23:00 PM ::


::
0 Comments:
Ed Working
::
permalink